Want some Turkey Pumpkin Chili?
Jump to Recipe
As the weather gets cooler and autumn vibes fill the air, there's nothing better than a steaming bowl of hearty chili to warm you up.
Today, I'm sharing a fantastic recipe that's perfect for this season: Turkey Pumpkin Chili. This dish combines the goodness of turkey with the comforting flavor of pumpkin, making it a delicious and satisfying meal for everyone to enjoy.
So, let's dive right into this simple and tasty recipe that'll have you coming back for seconds!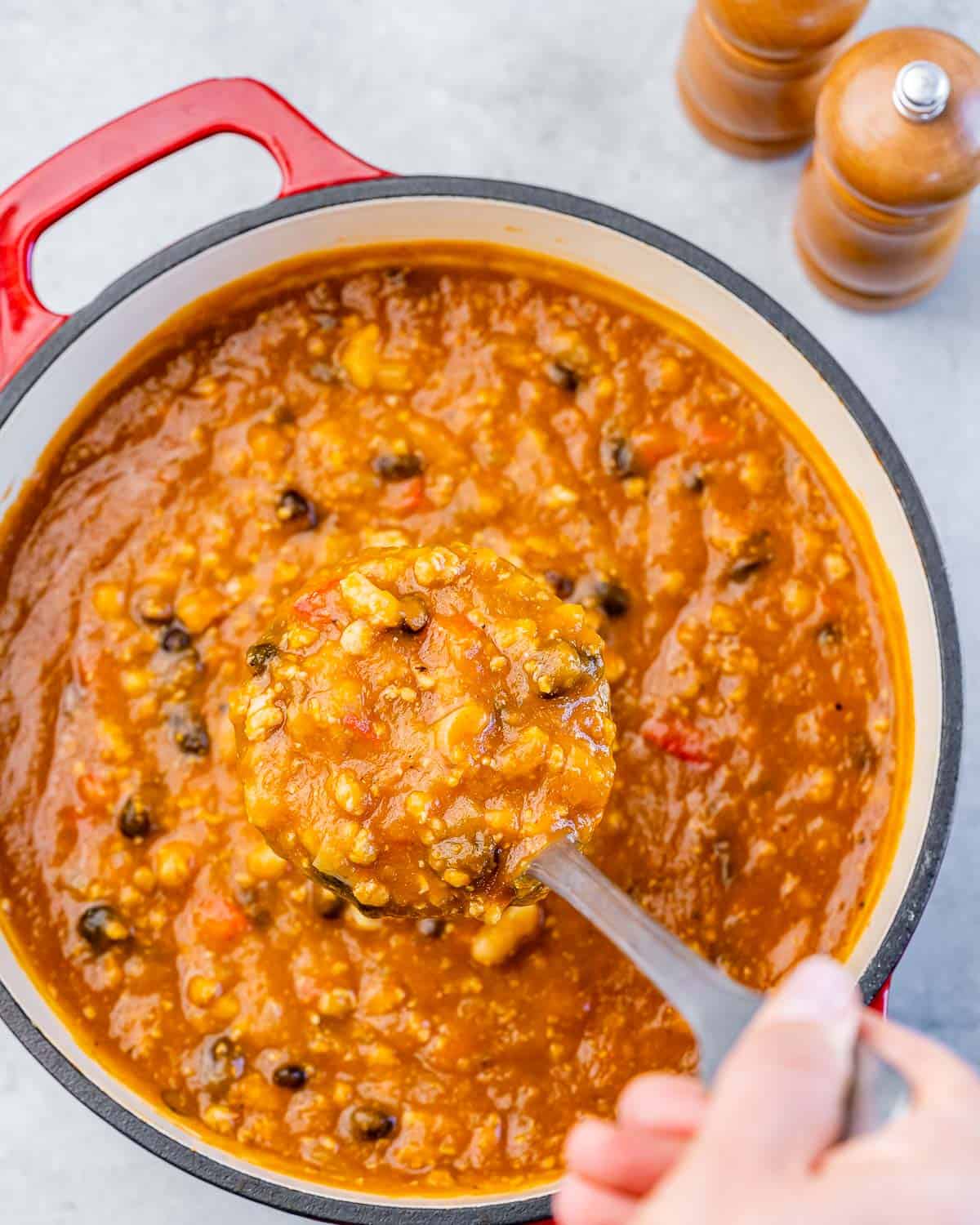 Getting Started:
Imagine a lazy Sunday afternoon, your kitchen filled with the aroma of spices, and a pot of chili simmering away on the stove. That's the cozy scene we're setting for our cooking adventure. Don't worry, this recipe is easy to follow and doesn't require any fancy cooking skills.
Expert Tips:
Pick the Right Pumpkin Puree: Choose canned pumpkin puree without added sugar or spices for an authentic pumpkin flavor in your chili.
2. Spice it Up Just Right: Adjust the spices to your taste. If you like it spicier, add a bit of cayenne pepper or a chopped jalapeño for some heat.
3. Slow Cooking is Key: Let your chili simmer on low heat. This slow cooking allows the flavors to mix and gives your chili a rich taste. Be patient—it's worth it!
4. Fresh is Best: Use fresh garlic and onions instead of powdered versions. Fresh ingredients add a depth of flavor that makes your chili taste amazing.
5. Don't Forget to Season: Taste your chili as it cooks and add salt, pepper, and spices as needed. Adding seasoning in stages ensures your chili is perfectly balanced.
6. Get Creative with Toppings: Try different toppings like crunchy tortilla strips, diced avocados, or a squeeze of lime. These extras add exciting flavors and textures to your chili.
7. Let it Sit: Chili often tastes better the next day. Let it sit in the fridge overnight for even more delicious flavors.
8. Make Extra and Freeze: Cook a big batch and freeze individual portions. It's a great way to have a quick meal ready when you're busy.
9. Fresh Herbs for Garnish: Sprinkle freshly chopped cilantro or parsley on top just before serving. The fresh green herbs add a burst of flavor.
10. Serve with Cornbread or Rice: Enjoy your chili with cornbread or rice. The combination of chili with these sides is a match made in heaven.
Turkey Pumpkin Chili Recipe
Ingredients
2

pounds

ground beef

1

large

onion, diced

1

green bell pepper, diced

2

(15 ounces)

cans kidney beans, drained

1

(46 fluid ounce)

can tomato juice

1

(28 ounce)

can tomatoes, peeled and diced, with juice

1/2

cup

canned pumpkin puree

1

tablespoon

pumpkin pie spice

1

tablespoon

chili powder

1/4

cup

white sugar
Instructions
In a large pot, cook the ground beef over medium heat until browned. Drain off excess fat.

Add the onion and green bell pepper to the pot and cook until the onion is translucent.

Add the kidney beans, tomato juice, canned tomatoes, canned pumpkin puree, pumpkin pie spice, chili powder, and sugar to the pot. Stir well.

Bring the chili to a boil, then reduce the heat and let it simmer for 1 hour, stirring occasionally.
FAQ:
Can I use fresh pumpkin instead of canned pumpkin puree in the recipe?
Yes, you can use fresh pumpkin! Simply peel, cube, and cook it until tender. Then, mash or blend it to use in the chili.
Can I make Turkey Pumpkin Chili in advance?
Absolutely! Turkey Pumpkin Chili actually tastes better when made ahead. Store it in the fridge for up to 3 days or freeze for longer storage.
Is Turkey Pumpkin Chili spicy?
The spiciness can be adjusted to your preference. If you enjoy heat, add extra chili powder or a diced jalapeño. Otherwise, keep it mild.
What are some good toppings for Turkey Pumpkin Chili?
Popular toppings include shredded cheese, sour cream, sliced green onions, chopped cilantro, and a squeeze of lime. Get creative with your choices!
Can I substitute ground beef for turkey in this recipe?
Absolutely! You can use ground beef, chicken, or even vegetarian meat alternatives based on your dietary preference.
Can I make this recipe in a slow cooker?
Yes, you can! Brown the turkey and onions first, then transfer all ingredients to the slow cooker. Cook on low for 6-8 hours or on high for 3-4 hours.
Can I add other vegetables to the chili?
Absolutely! Feel free to add vegetables like corn, carrots, or bell peppers to enhance the flavor and nutritional value of your chili.
Wrap-up: To the best Turkey Pumpkin Chili Recipe
And there you have it – a simple, comforting, and incredibly tasty Turkey Pumpkin Chili that's perfect for fall. It's a great way to enjoy the season's flavors without spending hours in the kitchen. So, the next time you're craving something warm and filling, give this recipe a try. Happy cooking, and enjoy your cozy meal!